Yucatán Peninsula and Riviera Maya – Visit All Famous Maya Ruins -Travel Planning
Yucatán with it's eternal sunshine, it's amazing beaches and the turquoise colored waters of the Caribbean Sea is a very popular travel destination for all kinds of tourists. The traveler can find many different accommodations along the Carribean coast line for all budget levels. This coast line stretches along the eastern coast of the Mexican state Quintana Roo. The settlements vary from (meanwhile) big cities like Cancun or Playa del Carmen to (still) small towns like Puerto Morelos or Tulum.
From camping, hostel, hotel, bed and breakfast, all kinds of budgets are served along the Riviera Maya. Different types of "all-inclusive luxury resorts", located between the cities, invite the tourist to stay for a relaxing time with sun and beach, latin music and exotic drinks. Uncountable numbers of restaurants, cafés, bars or night clubs with live music will feed and entertain the hungry and thirsty tourist in the big cities.
Unfortunately many tourists never leave their vacation area and therefor never get an idea of what kind of wonders they miss, sometimes just 1 or 2 hours away. Amazing temples and huge pyramids wait for the curious. Ancient cities of the lost, classic Maya civilization with it's 2000 year old ruins, walls, streets and palaces could be visited. Some can be reached by bus, for others the traveler needs to walk a couple of days in the jungle.
Hey! We talk about some of the oldest stone buildings of the Americas!
Why do so many people miss to visit these sites? The answer is simple. Traveling in Yucatán seems to be very adventurous. It is more cushy to spend the day with a frozen marguerita beside the pool of the hotel. But is it really less comfortable to be on the road? The answer is: "No" – with an "if" – the if is: …,if you know what to do and where to go…
Ok, you won't have a nice pool most of the time, but after you return to your hotel or beach resort, you bring something with you beside the nice photos you have taken – travel experience. And stories that you can tell your friends who preferred to stay in the resort. Believe me, they will go green for envy while listening to your stories…
In this article I want to show three possible routes that allow you to visit around 20 different sites in the whole Yucatán Peninsula. Some of these sites you might not even have heard the name before. All of them – except for one – can be reached by car. As you can see, these three routes require different levels of fitness from you. Let's start with the simple one.
Yucatán and Riviera Maya – The classic route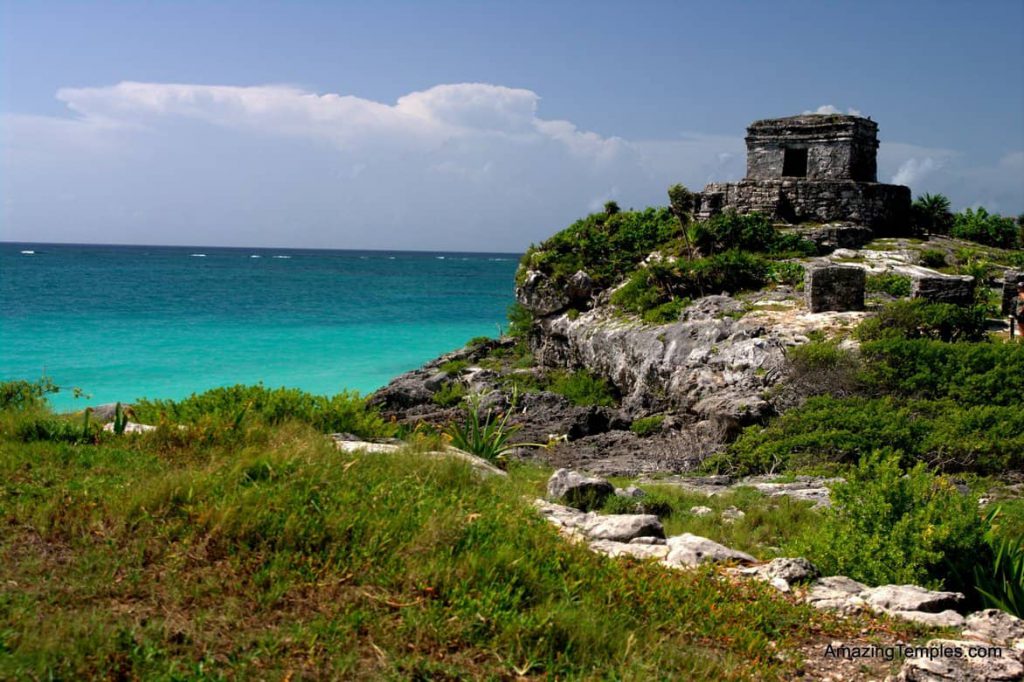 I call this the classic route because it touches all the sites in northern Yucatán that are usually visited by tourists of the Riviera Maya. And in fact all the Maya sites that we see on this trip belong to the classic period. Most people arrive in Cancun, when traveling in Yucatán. That's where we start. All recommendations in this post are based on my own experience, gathered in various travels in Yucatán and Central America.
After your arrival in Cancun you might want to stay for one or two days in a hotel for acclimatization. I usually travel directly down to Playa del Carmen and stay there for 2 or 3 nights
But you could decide to spend the first days in Cancun, Tulum or one of the luxury resorts as well. This helps to get used of the higher temperatures and to get over the jet lag in case you arrived from overseas.
Tulum and Cobá
Tulum and Cobá are the first two sites to visit. For both sites it might be the best to look for an accommodation in the city of Tulum itself. The archaeological site of Tulum is located few driving minutes north of the modern town. It is a small site located on a cliff above the carribean sea.
From Tulum city you best take a taxi or rent a bicycle to visit the "Zona Archaeologica" of Tulum. You could even walk.
Cobá, around 40 km west of Tulum, is one of the few ruin sites with a possibility to climb on one the pyramids. Nohoch Mul is also the biggest pyramid in the northern area of the Yucatán peninsula. From its top you will have an amazing view over the jungle where other pyramids rise above in a distance. Cobá itself is huge. Inside the archaeological area you can rent a bicycle to get around.
Cobá can be reached using public transportation, rent a car or using a guided tour. Most hotels have contact information for tour guides, who will bring you there and back.
Ek Balam near Valladolid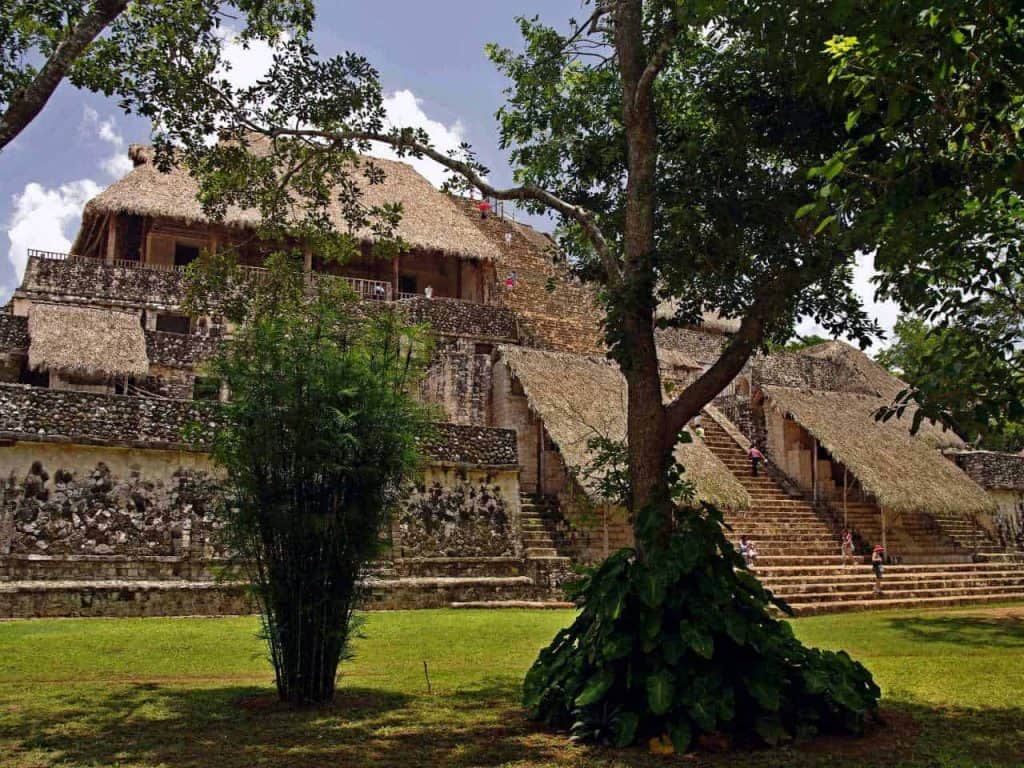 From Tulum you can take a bus to Vallodolid, where you should plan the next stay. The archaeological site of Ek Balam is around 30 km north of Valladolid. It is famous for the great stucco frieze at the side of the main pyramid. The name Ek Balam means "Black Jaguar".
Vallodolid itself is a typical Mexican city in colonial style. Tourism in Valladolid is on a low level. Therefore it is a good place for shopping. I got my best hammock ever in Valladolid.
Chichén Itzá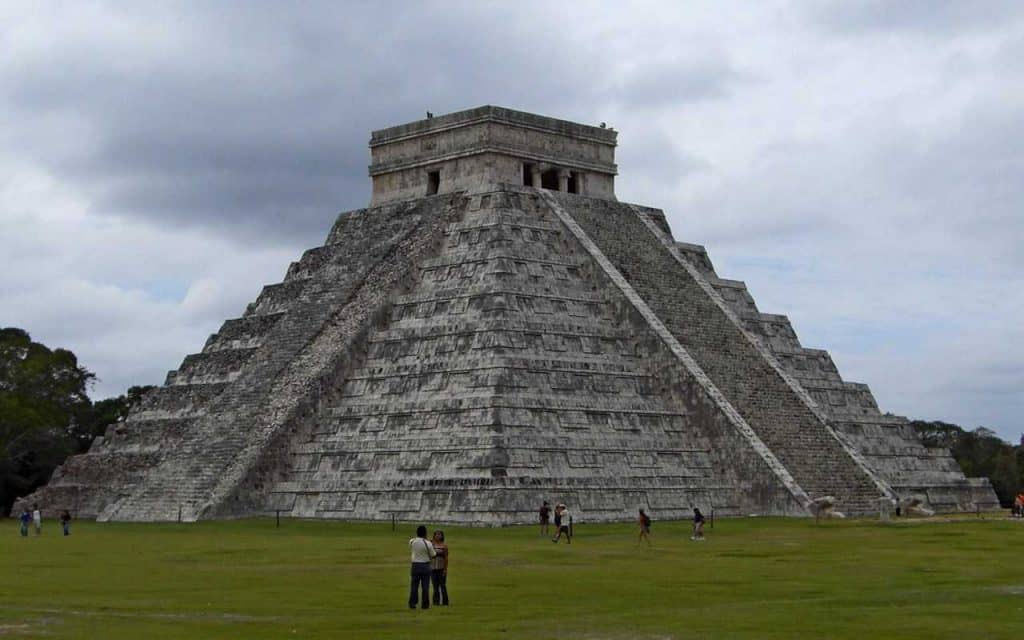 This is the site that everybody knows. A trip to the Yucatán peninsula isn't complete without having seen this impressive Maya site. You can visit this site during a day trip if you stay at the Riviera Maya. But if you want to get in early I recommend you to travel directly to Chichén Itzá and stay in a hotel nearby.
Chichén Itzá is the most famous Maya site in Yucatán. Many people visit this site every day. Buses full of tourists who come from the hotels in Cancun arrive every day. Best is to stand in front of the gate short before the site opens. This allows you to take some nice photos of the pyramids without having a crowd of tourists in front of it.
>>> Read more about Chichen Itzá
Izamal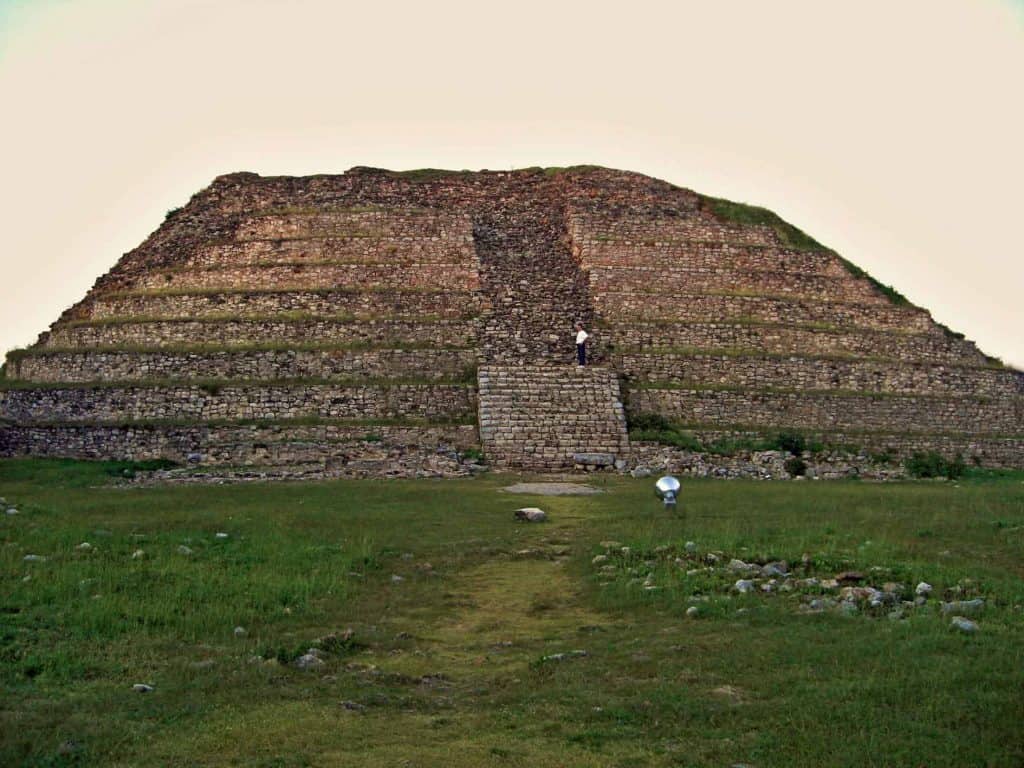 Izamal is special. Most people miss this small town in the north of Yucatán. The two most massive pyramids did exist here in the ancient times. One of them was destroyed and a monastery was build on top.
The first bishop of México lived here. And the fourth. His name was Diego di Landa. He is famous for the burning of nearly all books and documents of the Mayas. Not so nice, but the monastery is still impressive.
The second pyramid still exists, even the small temple pyramids on top have been destroyed except of one.
Both buildings are located in the middle of the modern town of Izamal, a city in colonial style, worth to watch it. You could visit Izamal while you are on the road from Valladolid to Merida or even plan to stay there overnight.
Uxmal near Merida
The most impressive building in Uxmal is the "Pyramid of the Magician". A mystic legend says, that this building was constructed over night by a magician.
Other buildings like palaces and temples around the pyramid are in a very good condition. For Uxmal you should stay in Merida for 2 or 3 days. This allows you to visit the city of Merida with its old churches and the museums and plan for a day trip to watch the archaeological site of Uxmal.
With Merida and Uxmal our first trip in the north of the Yucatán Peninsula ends. You have two possibilities now. Return to the Riviera Maya or continue with the second tour. I call it the Exotic Route.
>>> Continue Reading: The Top Maya Sites of Chiapas and Campeche

You can find a very informative article about the Riviera Maya with a lot of tipps and travel facts on Shannon's website: alittleadrift.com