Getting around Chiapas – Palenque, Bonampak, Yaxchilan
On the second part of the trip we are leaving the main tourist areas. The area becomes more "exotic" from here on. Most sites were founded during the preclassic area of the ancient Maya civilization. Many of the Maya monuments that you will see on this tour can easily be older than 2000 years.
Edzná near Campeche
From Merida it's just a hop to Campeche. The public buses of the big overland lines do this distance in less then 3 hours.
Campeche is the biggest town at the west coast of the Yucatán peninsula. It has the status of an UNESCO world heritage and is famous for it's colorful houses, the colonial style of the city, the sea food and the pirates, that conquered this city during the 16th century.
Edzná is a huge Mayan site approximately 30 km away from Campeche. The public transportation to Edzná is not the best. You better ask for a guided tour or if your are several people, to book a taxi for a day.
Into Chiapas
From Campeche you should take a bus southwards to Palenque. Here in Palenque we will stay for a while. It's a central place and from here you can do one or two day trips to visit many different sites.
With Palenque you arrived in a more subtropical area. And you have reached the Mexican state of Chiapas. It's useful to have some insect repellent with you, because you have to expect more mosquitoes from now on.
Palenque is a small town but well prepared for tourist. There are a bunch of hotels and hostels as well as bars and restaurants. Outside the city of Palenque you can find luxury resorts as well, if you like to stay in a more comfortable way.
Palenque
The archaeological site of Palenque is amazing. Surrounded by the jungle you will be impressed by enormous temples, pyramids and palaces. The sound of the howling monkeys in the foggy forests around the ruins give a special character to such a visit.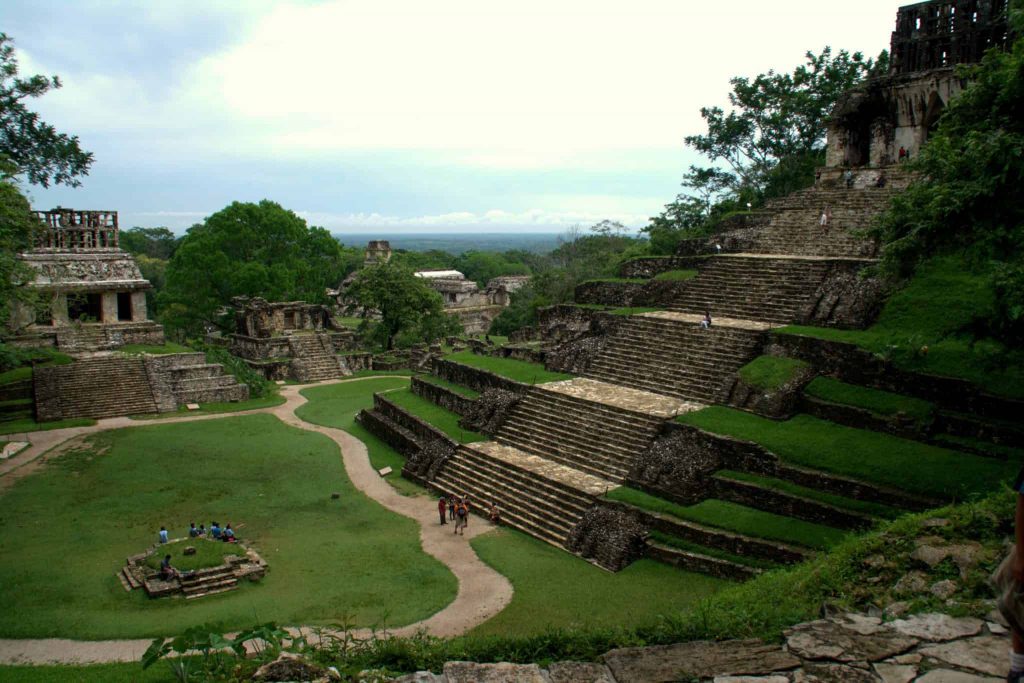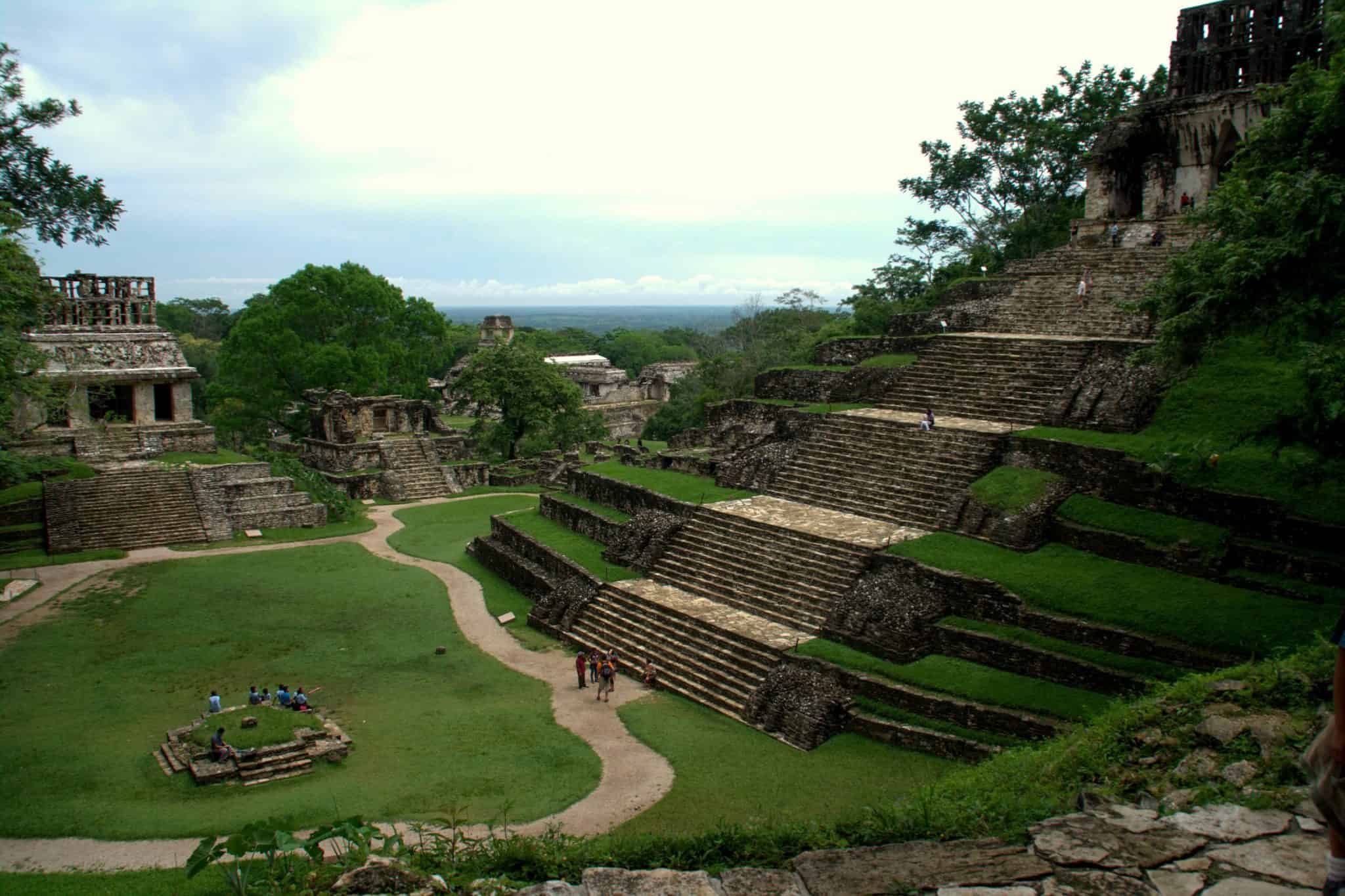 You can reach the Palenque ruins very simple by public transportation. Small buses that are called "Collectivos" leave Palenque city several times per hour with the destination "Ruinas". Simply stop one by raising your hand.
Bonampak and Yaxchilan
Bonampak and Yaxchilan are amazing. They are very close to each other so you can visit them all together.
But Yaxchilan can be reached from the small town Frontera Corozal only by boat. You will never forget the boat tour on the Rio Usumacinta.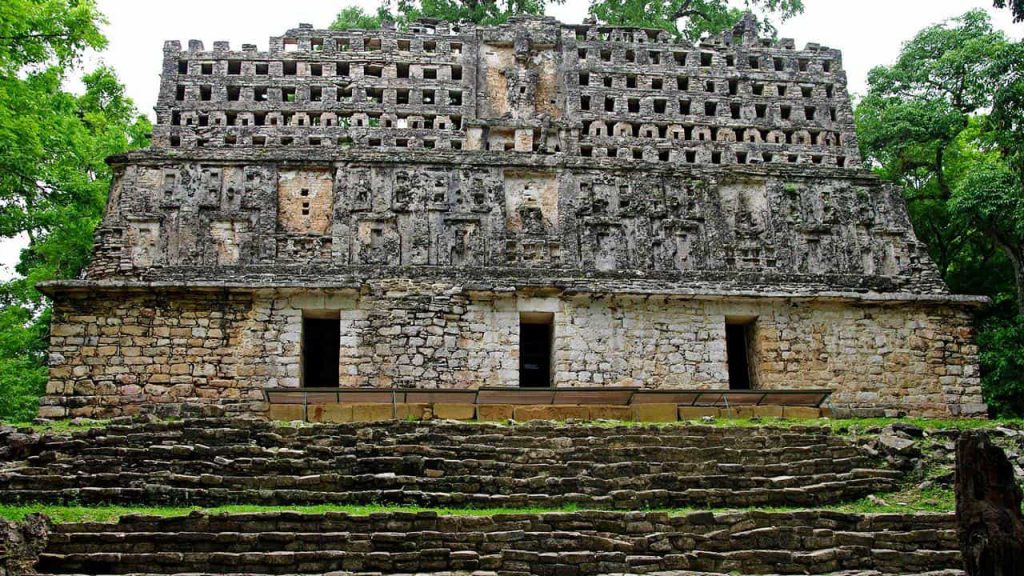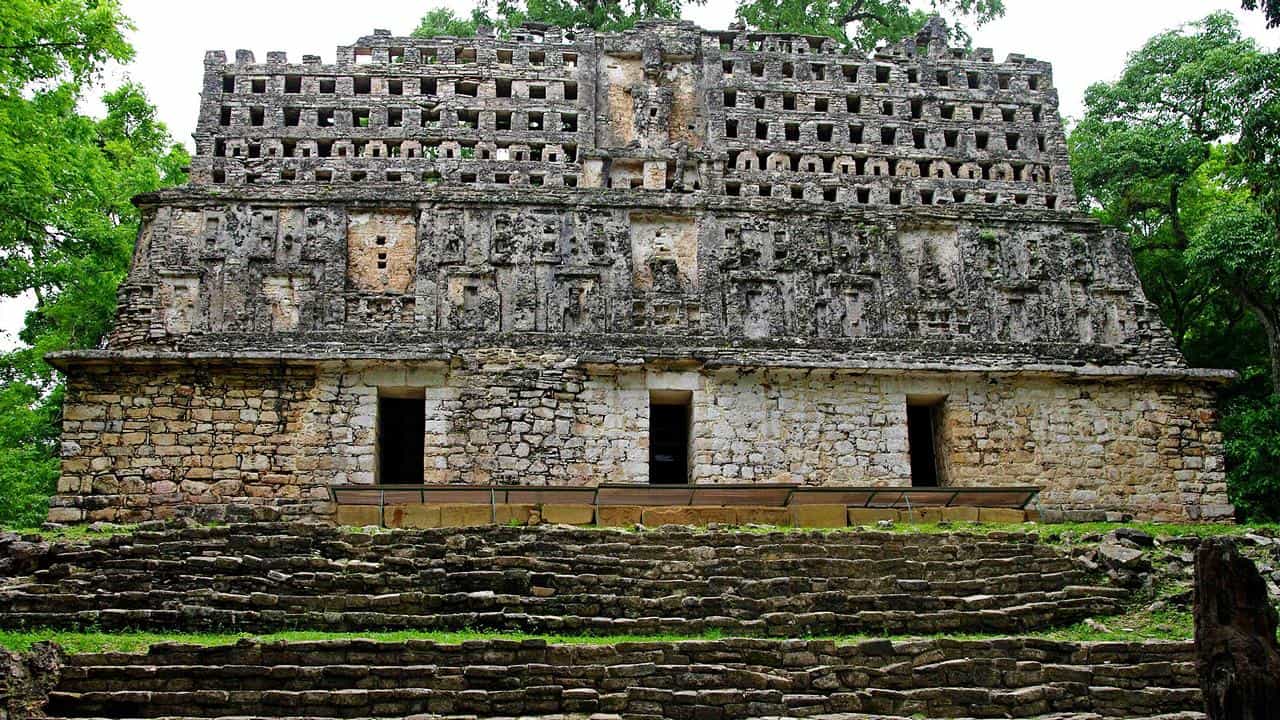 Bonampak on the other hand is famous for its wall paintings. The murals of Bonampak have been detected a few years before and are in a perfect condition. It is located in the Selva Lacandon, the forest of the Lacandones, where the last members of this Maya tribe are living.
---
Best is to book a guided tour in one of the small tourist offices in Palenque to visit Yaxchilan and Bonampak in one time. They organize a one or two day trip to visit these two ancient Maya centers.
Tonina
The pyramid of Tonina is impressive due to its size. But it is not really a pyramid. In fact it is a mountain that was used by the Mayan architects to build a gigantic stairway with several levels. On the different levels other, small temple pyramids can be seen.
Tonina can be visited in a one day trip from Palenque. Simply use an official bus to Ocosingo, the town nearby.
From Ocosingo you can get to the ruins within 30 minutes with a "collectivo" bus. The "collectivos" start at the market place.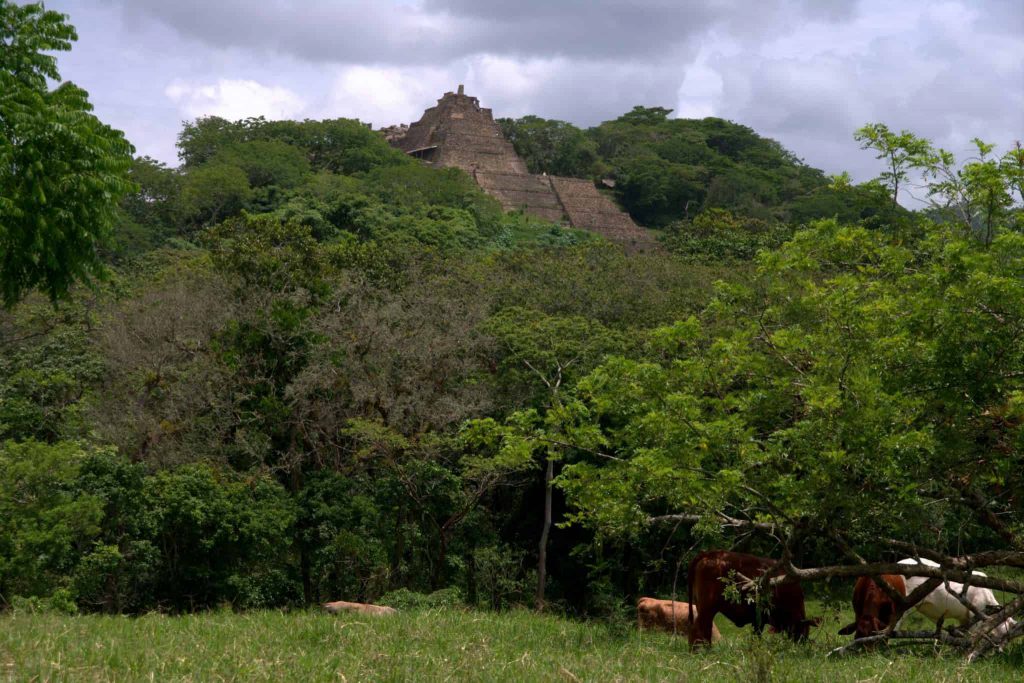 Special: Villahermosa and the La Venta Parc – Olmec Museum
Another one day trip that can be performed from Palenque is a tour to Villahermosa. The bus needs two hours to get to this town in Tabasco. This allows you to visit the city, have lunch or dinner and do some shopping in a tourist-free mexican town.
But that's not the main reason why you should go there. The most amazing thing you can find in Villahermosa is the La Venta Parc Museum. This is an open air museum that show the artifacts that were found during the excavations in La Venta, a swampy region nearby. Big, big stone heads created by the ancient Olmecs more then 2000 years ago, have been placed in a lovely jungle parc including a small zoo – with a black jaguar!
>>> Read more about the Olmec museum in Villahermosa
San Cristobal de las Casas and Chamula
A trip to Chiapas wouldn't be complete without a visit of San Cristobal de las Casas. Plan a stay of 3 days for this fabulous city in the heart of the highlands of Chiapas.
There are several churches you shouldn't miss, the museum of Maya medicine and the Museum of the Lacandones.
San Juan de Chamula
A visit of San Juan de Chamula will complete your journey.
Chamula is the biggest community of indigenous people in Chiapas. The colorful market is something you should have seen as well as a visit of the Maya church of Chamula. In this church, a special mixture or side-by-side of Mayan and Christian ceremonies are performed.
Keep in mind that it is absolutely forbidden to take photos inside the church!!! and that the people of Chamula can become very unfriendly if you take photos of them without an allowance. Better ask before you get in trouble.
After you returned to Palenque, the exotic route ends. You can go back to Yucatán at the Riviera Maya from here and have some fantastic time at the Caribbean beaches or you
>>> continue with part 3 of this article "Getting around Petén, Guatemala"