El Mirador – Pyramids hidden in the Jungle – Guatemala Adventure
The highest pyramids and the largest Maya town ever detected, El Mirador in Guatemala is not only a site full of superlatives. It is the most adventurous travel destination for people interested in the ancient culture of the Mayas.
El Mirador – A Real  Treasure Hidden in the Rain Forest
No street, just mule trails across the jungle lead to this amazing place. For centuries hidden in the sub-tropical forest, only jaguars and monkeys were aware of the existence of the stony mountains between the trees.
Mountains that were pyramids before the nature took place. Pyramids build by humans 2000 years before, to worship some long forgotten gods. The few chicleros who found this place called it "El Mirador" – what means "lookout" – because the ruins of these buildings exceed the surrounding forest by a big extend.
Awesome! One of the biggest pyramids in the world
El Mirador was a very huge city. Bigger than any other of the surrounding Mayan cities, bigger than Tikal, Yaxchilan or Palenque. And it is an old city. It might have been founded before 600 BC in the pre-classical period. El Mirador could have been inhabited by 100.000 people during its high period. Like all cities of the area, it was abandoned around 890 AC. 1500 years of a lost civilization.
Amazing Temples and Pyramids
The three main pyramids are called El Tigre, Los Monos and La Danta. All three have been constructed with  several levels. Each of them has a group of three temple pyramids on top. The height of El Tigre is 55 m, La Danta is 70 m, and Los Monos 48 m. Due to a volume of  2,800,000 cubic meters La Danta is one of the biggest pyramids in the world.
The Trip to El Mirador – Hiking Adventure in the Jungle of Guatemala
To get there, you have to walk. Sometimes it is possible to ride on mules. But walking is faster and allows you to watch the nature more close. It is a 5-day trip to El Mirador and back.
---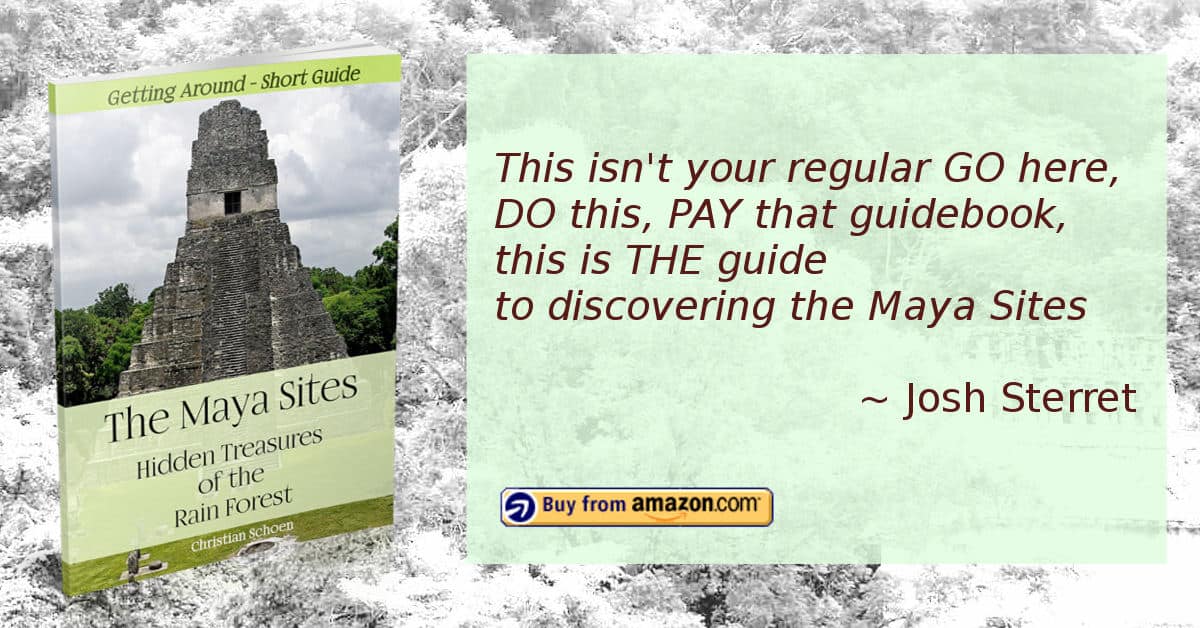 ---

Day 1
The first day will begin with a drive to Carmelita, 60 miles north of the Lago Petén. This is the last village, that can be reached by car. In Carmelita the walk will begin.
A guide and a mula  will accompany you.  The mules are required to transport the food, water and additional luggage. This first day will end in Tintal. Tintal is another Maya site with temple pyramids, but less important than El Mirador. The restauration work at this place is not as intensive as in El Mirador.
Day 2
After a wonderful night with camp fire, mosquitos and strange jungle sounds you will continue the walk and reach El Mirador on the second evening.
Day 3
After a second night, get up early before the sunrise and climb up to El Tigre. You will have a perfect view around and see the sun come up at the horizon, coloring the jungle with  a fantastic light. This third day is for looking, exploring and watching.  Go to see La Danta, Los Monos, El Tigre. If you are lucky, you can watch and talk with archaeologists.
Day 4 and 5
On the fourth morning you will leave El Mirador and after another night in the jungle you will be back in Carmelita.
Some advice, based on my experience of 2008
Good shoes:  If you are not used, don't try to walk this distance with rubber boots, as the locals do. I was there during the rain period and found that the trail was in a good condition for regular walking boots.
Clothes: Use trousers, not shorts. There are snakes, tarantulas and scorpions waiting for you. Yes, just for you.
Hygiene: Water is limited. Don't expect to have a possibility to shower. Tooth brushing should be possible. A shower with fresh water is impossible. After 3 days you will smell like a buffalo, what makes you less attractive for the mosquitos.
Insect repellent: Have enough with you ! Expect heavy attacks ! In San José, north of the Lago Petén, is an organization, that produces traditional Mayan medicine. They sell a lotion against mosquitoes made from the extracts of plants. The benefit is, that this is not washed down when you sweat.  I had it with me and used it during the five days. On the third day after using this, the mosquitos stopped to attack me.
Light is attractive: It's not bad to have a flash light with you, but don't use it when you eat in the night at the camp fire.  You might be anxious that some animals fall in you soup, tea or coffee.  Don't care, you cannot change it. But if you try to light your dish to examine the content, you will attract complete armies of insects of all sizes. Their only desire is to jump in your vegetarian spaghetti bolognese. So it's better you eat in the darkness and allow the insects to jump in the soup of your friends.
How to get to El Mirador:
Don't try to do this trip on your own! It's dangerous. Ask one of the tourist offices in Flores. They organize guided tours and mules for the luggage.
Have fun !
Recommended Reading
A wonderful article about the trip to El Mirador by Claire and Marcella can be found at  "Best regards from far" :
A 5-day jungle expedition to discover the ancient Maya capital of El Mirador, Guatemala
A second post on this amazing website describes the historical aspects of El Mirador:
Exploring the cradle of the Maya civilization, El Mirador, Guatemala
More historical information:  http://en.wikipedia.org/wiki/El_Mirador
---
Check my book or eBook at Amazon:
THE MAYA SITES
          – HIDDEN TREASURES OF THE RAIN FOREST